IronKey Demos
The World's Most Secure Flash Drive
IronKey Basic is the world's most secure USB flash drive. Designed specifically for the needs of sensitive military, government and enterprise networks, it is extremely easy to deploy and use. IronKey Basic technology comprises the core platform for the IronKey family of secure storage and authentication products.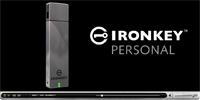 All data stored on an IronKey Personal drive is encrypted with high-speed military-grade hardware encryption. Unlike software-based encryption, this "always-on" protection cannot be disabled and is protected against cold-boot and brute force attacks. No one can access files stored on an IronKey unless they authenticate with the correct password. All encryption and password verification are performed in hardware, and it cannot be disabled by worms, viruses or other malware.
The IronKey Enterprise solution combines AES 256-bit hardware-encrypted IronKey USB flash drives with a Remote Management Service. Strong encryption and strong authentication capabilities protect critical data from loss while intelligent anti-malware keeps out worms and other malicious code. Administrators can enforce security policies across thousands of IronKey Enterprise drives over the Internet.