Kingston Ironkey F150 Flash Drives

Data Worth Protecting is Worth Protecting with IronKey F Series Flash Drives

Sorry, this product is no longer available, please contact us for a replacement.
Overview: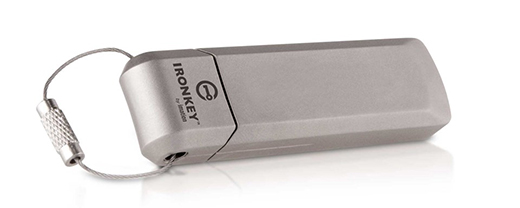 IronKey F150 Flash Drive offers a fast and efficient hardware-dedicated security processor that provides advanced portable security through on-board AES 256-bit hardware encryption, authentication and manageability. FIPS 140-2, Level 3 validation meets the highest government standards. It also provides hardware protection against malware in any environment. The innovative tamper-resistant metal enclosure acts as an integral case, which is waterproof and dustproof, meeting the needs of government, military, financial, healthcare and other enterprise organizations.
Features & Benefits: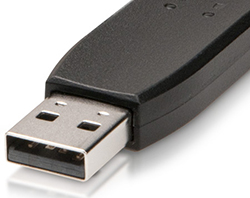 Fast, secure, encrypted storage in a tough, tamper-evident case.
Meet the Most Rigorous Compliance Requirements
Meet even the most stringent data storage and transport requirements via military-grade, AES 256-bit encryption that is handled at the hardware level and is FIPS 140-2 Level 3 Validated. And encryption implemented in Cipher Block Chaining (CBC) mode is activated every time the USB flash drive is in use.
Easily Deploy a Flexible, Work-Anywhere Solution
IronKey F150 Flash Drives are compatible across multiple platforms without the need to install administrative software or drivers. Yet for those who need it, comprehensive central management is available and easy to use.
Stand Up to Unauthorized Access
Foil unauthorized users by requiring a strong, unique password to unlock data and applications. And the IronKey F150 Flash Drive's innovative tamper-resistant, lightweight magnesium alloy enclosure acts as an integral, water and dust resistant case.
Collaborate Safely and Securely with Colleagues
Use Kingston SafeShare technology to allow users to collaborate using on-device data, but without compromising its security.
Optimize Usability with Multi-Language Support
Reduce help desk calls and streamline user experience with an intuitive user control panel available in nine languages.
Optional Features
Extend the value of IronKey F150 Flash Drives with optional features.
Antivirus protection
Defend data and identities against viruses, worms, and other malware threats with on-board antivirus software, which constantly monitors file transfers to the drive.
Ironkey Enterprise Management Server and Service:
Conveniently manage devices and access policies
Manage IronKey F150 Flash Drives with your choice of two comprehensive device management platforms:
McAfee ePolicy Orchestrator® (McAfee ePO™) integrates directly with IronKey F Series drives. McAfee ePO gives you extensive control over how your employees handle confidential data.
The IronKey ACCESS™ Enterprise management platform lets you broadly deploy USB devices and police their use.
Key features include:
Flexible policy enforcement. Active Directory integration lets you enforce policies both internally and over the Internet.
Tailored environments. Tailor security policies and device behavior to different user needs. Adjust authentication policies ― password complexity rules, biometric security levels, retry limits and more ― to the needs of each group of users.
Advanced reporting. Make it easier to meet audit and compliance requirements by logging and storing a complete history of administrative activities for each device.
Streamlined device management. With optional IronKey ACCESS™ Enterprise Server software, allow users to self-issue devices right at their desks while maintaining full adherence to predefined security policies. Then update policies at any time, even over the Internet.
Secure device communication. An industry first, the ACCESS Enterprise Server software uses direct device communication through a NIST SP800-56A certified, authenticated secure channel. Unlike lesser server solutions that put the burden of policy translation on the device, Kingston's server directly applies policies to devices for true security and policy immunity to host-resident malware.
User self-rescue. With ACCESS Enterprise Server software, ensure that devices remain accessible even if a user forgets their password or damages their fingerprint.
Device revocation. Prevent leakage by using ACCESS Enterprise Server software to remotely block compromised devices, or even erase data remotely.
Download the McAfee ePolicy Orchestrator Solution Brief (.PDF)
Download the ACCESS Enterprise Data Sheet (.PDF)
Specifications:
Ironkey F150 Flash Drives
Capacities
8GB, 16GB*


* 1 GB = 1,000,000,000 bytes. Some capacity is used by the security software and is not available for storage.

Size (With Cap On)
12.5mm x 21.5mm x 76mm (0.49" x 0.85" x 2.99")
System Compatibility
Windows® 8.1/8/7/Vista (Bus, Ent and Home editions SP2)/XP (Prof and Home SP3)
Mac OS™ 10.5 or higher
Languages
English, Traditional Chinese, Simplified Chinese, French, German, Japanese, Korean, Portuguese-Brazilian, Spanish
Standards And Certifications
FIPS 140-2 Level 3 Validated
USB 1.1 and 2.0
FCC
CE
WEEE Compliant
RoHS Compliant
Interface
USB 2.0 (1.1 compatible)
Warranty
5 Years Limited
Trade Agreements Act Compliant (TAA)
Designed and Assembled in U.S.A.